PAFE Form Builder has 2 widgets:  Field and Submit, you can easily customize the layout, and can insert any other widgets in a form.
PAFE Form Builder has many great features such as Booking, Multi Step Form, PDF Generator, Repeater Fields, Conditional Logic, Calculated Fields, Stripe Payment, Strip Payment Subscriptions, Submit Post support ACF, Toolset, JetEngine, Edit Post, Woocommerce Add to Cart, Dynamic Pricing, Checkout with Woocommerce, Remote Request, Image Select, Range Slider, Google Sheets Connector, Form Database, MailChimp, ActiveCampaign…
Click on the Template Json list above to download. Please extract Zip files, then import Json files.
Repeater Fields Multi Level Nested

You can use Elementor Section or Inner Section to make Repeater, Sub Repeater
and Any Elementor Widget to make Add, Remove Button
Conditional Logic: If Acceptance checked, the Section Repeater bellow will be shown
Test with Card number 4242 4242 4242 4242 – 04 / 24 – 242 – 42424
You can checkout with Stripe, Stripe Subscriptions or Woocommerce
To begin, go to Elementor Panel > Elements > PAFE Form Builder. Use Field Widget and Submit Widget to create your Form.
Form ID* (Required): Enter the same Form ID for all fields in a form, with Latin characters and no space. E.g. order_form
Field ID* (Required): Field ID has to be unique in a form, with Latin characters and no space. E.g. your_field_id
Shortcode: [field id="your_field_id"]
Type: Text, Email, Textarea, TinyMCE, URL, Tel, Radio, Select, Select Autocomplete, Terms Select, Image Select, Google Address Autocomplete, Checkbox, Acceptance, Number, Date, Time, Image Upload, File Upload, Password, HTML, Hidden, Range Slider, Calculated Fields, Stripe Payment, Honeypot
Show a field and set value to a field
Edit Pizza Size Field > Conditional Logic
Show a Section by Field value
Edit Section > Advanced Tab > PAFE Form Builder Conditional Logic
Form ID* (Required): Enter the same Form ID for all fields in a form, with Latin characters and no space. E.g. order_form
Type, Text, Icon: It looks like Elementor Pro Form Widget
WooCommerce One Page Checkout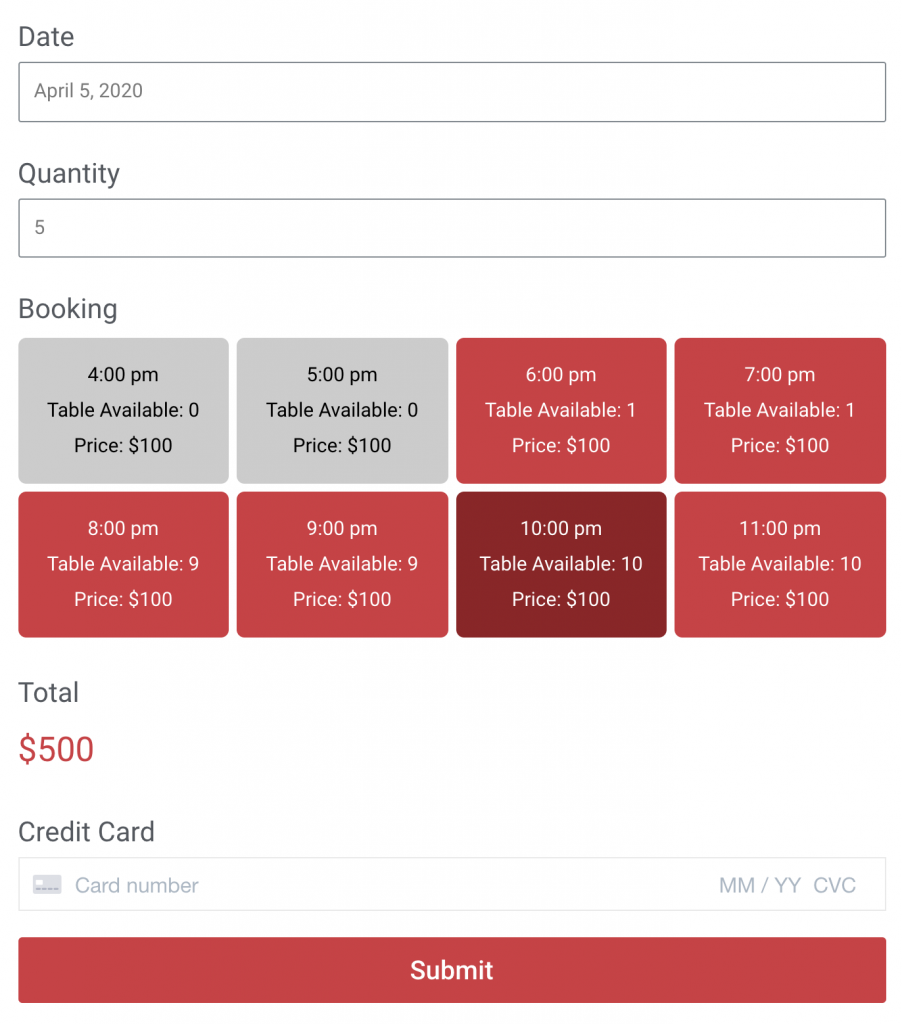 Repeater Fields Multi Level Nested
Create Step 1, Step 2, Step 3 templates

Go to Your WP Dashboard > Elementor  Templates > Saved Templates > Add New > Type : Section > Name : Step 1. And then create Step 2, Step 3,…

Go to Elementor Panel > Elements > PAFE Form Builder. Use Multi-Step Form Widget.
Form ID* (Required) Enter the same Form ID for all fields in a form, with Latin characters and no space. E.g. order_form
Add Step Item > Enter Step Title > Enter Step Template Shortcode
Multi-Step Form has many features like Submit button PAFE Form Builder and Scroll To Top when Click Next and Previous
Example:
Create Plan Selection Field with Options: 3 months, 1 year
Create 2 Amount Fields – Hidden Field or Calculated Field, one for 3 months and one for 1 year.
Amount Field for 3 months has Field ID "amount"
Amount Field for 1 year has Field ID "amount2"
Shortcode Delete Post: You should add this shortcode into Single Template

Submit Post With ACF Repeater Field
Stored all records to Database. Go to Your WP Dashboard > Piotnet Addons Menu > Form Database
Filter Hook Before Submit:
apply_filters( 'pafe/form_builder/fields', $fields );
apply_filters( 'piotnetforms/form_builder/form_settings', $settings);
Filter Hook for Stripe metadata:
apply_filters( 'pafe_customs_metadata_stripe', $fields_metadata );
Action Hook after submit:
do_action('pafe/form_builder/new_record',$record) .
$record ($fields) is an array of fields, e.g
array(
    array('label'=>'Email', 'name'=>'email', 'value'=>'support@piotnet.com') ,
    array('label'=>'Message', 'name'=>'message', 'value'=>'Hello')
)