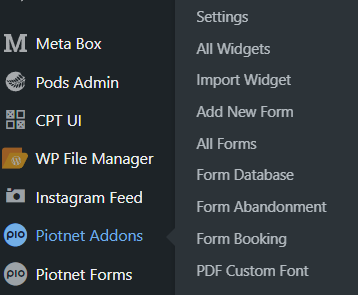 The Administration Panel (or the admin panel for short) is the primary dashboard of PAFE.
Here is the place where Settings, All Widgets, Import Widgets, Add New Form, All Forms, Form Database, Form Abandonment, Form Booking, and PDF Custom Font are set to be used in the front-end.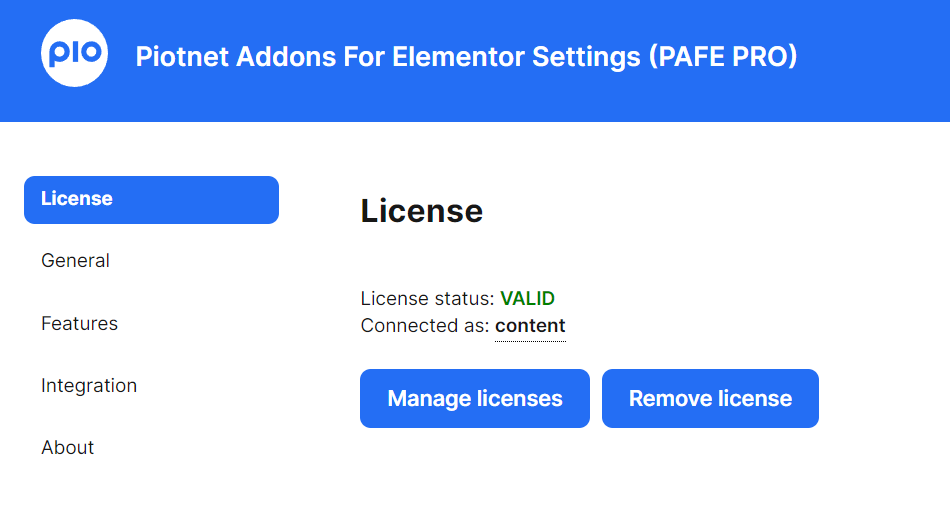 Settings
▶️ License
Manage Licenses:a button redirects to License Management Dashboard where can download, remove, and manage Plugins and Licenses.
Remove Licenses: Remove the License directly on your current Site.
▶️ General
Disable verify SSL when validating License: Only use it when you have trouble with validating the license (SSL certificate problem)
Subscribe to Beta updates:A Function is applied for urgent cases. After settling your reported bug, our Dev Team will push a Beta version to our system, you can enable this function to update that Beta version.
▶️ Features
Control area for all PAFE Form Builder features, Extensions, and Widgets.
▶️ Integration
 Control area for all Integration platforms versus PAFE.
▶️ About
Information for Tutorials, Support, and current Version.
Other Tabs